This mountain bike route takes in a short traffic-free section of The Sandstone Way in Harwood Forest. I rode it in November 2022, and my understanding is that this section of the route (and onward to Rothbury) was reopened at the end of October 2022. However, at the time of writing, much of Harwood Forest remains closed. In particular, St Oswald's Way is still subject to diversions due to Storm Arwen in November 2021; one of the issues being that storm damaged trees must be made safe within 2 tree-lengths either side of a right of way... and that's a lot of trees.
A 26km (almost) traffic-free MTB route from Winter's Gibbet to the crags at Simonside. It's a linear route, returning the same way. (170m of ascent.)
The theme of this route is: uphill on the way out, downhill on the way back. I began at the Winter's Gibbet layby. On a midweek November lunchtime, it was empty, but I'd guess it gets busier in the summer. There are a couple more laybys to the east (at least one of them with a "no overnight parking" sign) and there's also signage warning of soft verges, so take care. Apart from that, there is a viewpoint carpark about 1km to the west.
Four days later, I returned to Harwood Forest and rode it from the Rothbury side. There are far more parking options there, and it was arguably a better route. But, as they say, that's another story.
Route
Winter's Gibbet
William Winter was hanged in 1792. Not here, I found out later, but at Westgate in Newcastle-upon-Tyne. His crime? The murder of a local woman, Margaret Crozier. He was executed, along with two accomplices.
Gibbeting was the gruesome practice of displaying the bodies of executed criminals as a deterrent to others. Often this would be at a crossroads, or on the edge of a village. Given that Winter's father, and his brother, had both been hanged only three years earlier, the deterrent effect may be open to question. However, this does go some way to explaining the prominent choice of location.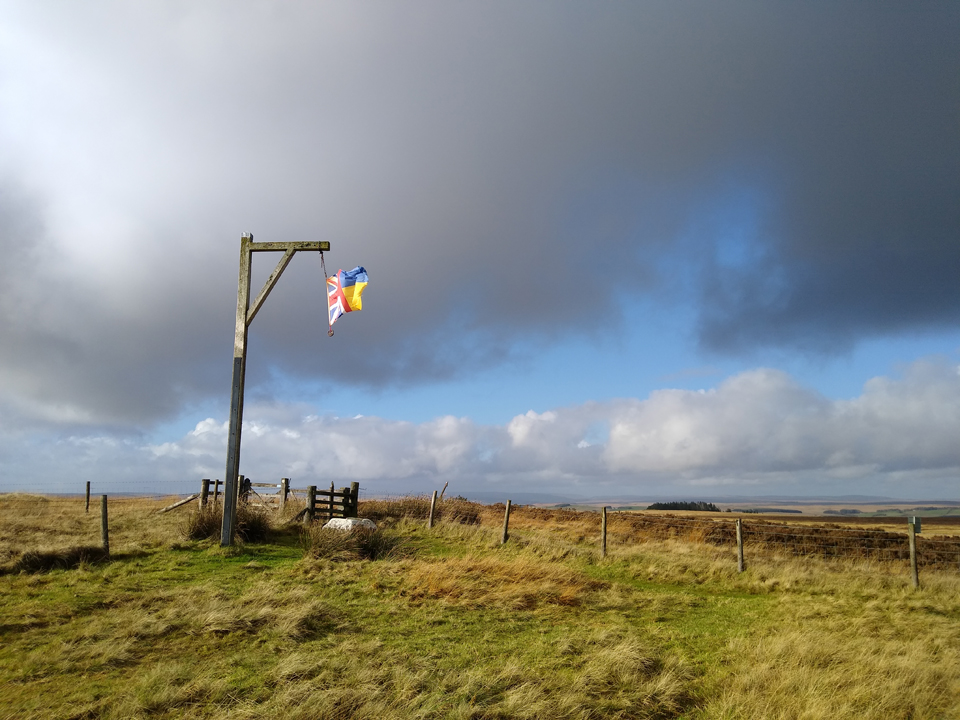 Winter's Gibbet, near the south-west corner of Harwood Forest.
Today's structure is not the original gibbet, but a replica, first installed in 1867. Walter Trevelyan, a naturalist and landowner, had it rebuilt. It's been maintained ever since although, one would hope, it's no longer used for it's original purpose! In fact, the laws requiring gibbeting were repealed in England in 1834. So you ought to be safe, even here in North Northumberland.
Either way, don't hang around! Pedal eastwards for 1km until you reach a gated gravel road, signposted as The Sandstone Way.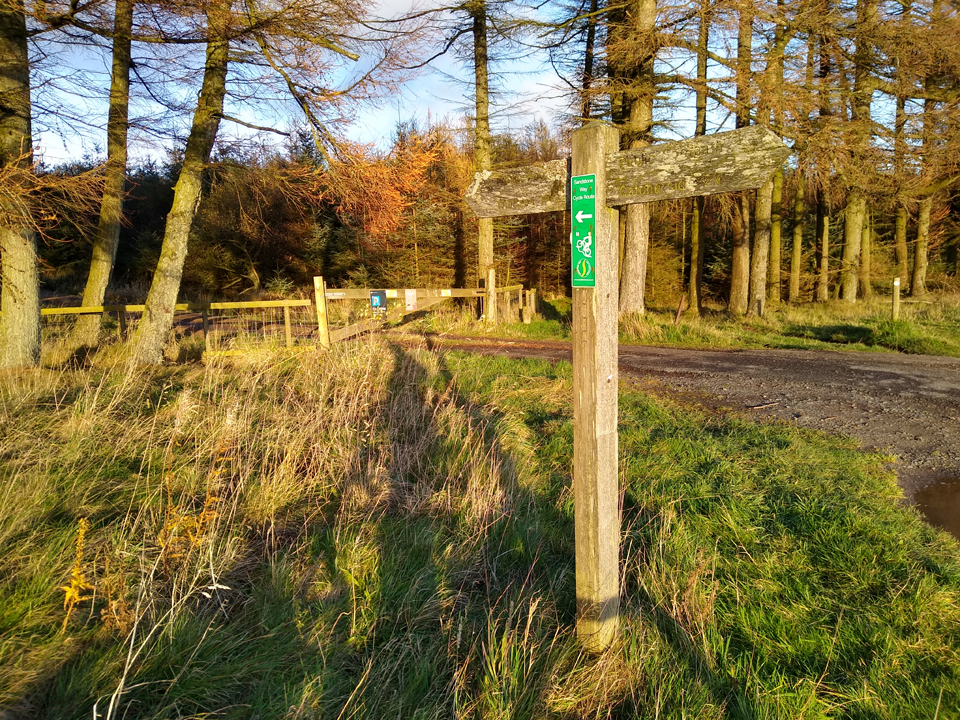 South entrance to Harwood Forest, signposted for the Sandstone Way.
From this point on, the route is all forest gravel road.
The Sandstone Way
The Sandstone Way is a 193km mountain bike route that links Berwick to Hexham. It was conceived by Ted Liddle, the legendary north-east cyclist, advocate and campaigner. It opened in 2015 and it's estimated at least 10,000 cyclists have completed the route so far.
There's an official website with full details of the route. If you were heading North-South, this section would form part of day-3, from Rothbury to Bellingham.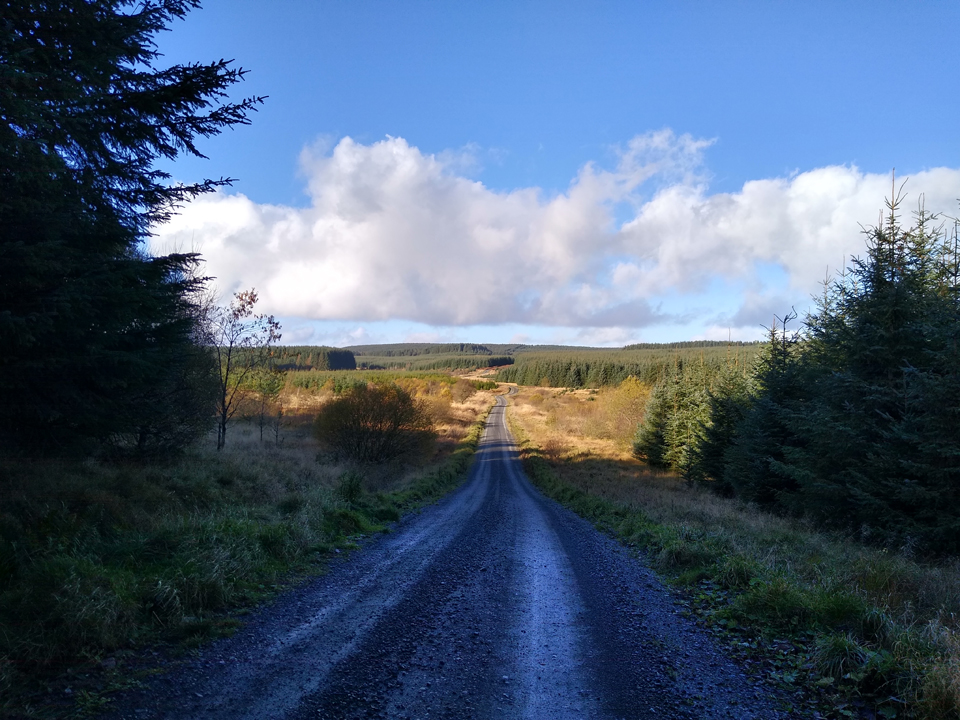 The route begins gently, with easy climbing and downhills, but steepens around Chartners.
For today's ride, the outbound leg (north) trends upwards towards Simonside, but the gradients were steady, and it always felt like there was ample rest between climbs. There's even a few gentle downhills for good measure.
At the time of writing, most of Harwood Forest remains closed for public access, and there are several diversion signs for St Oswald's Way. So far as I can tell, the Sandstone way route (as per the official website) is not affected by these diversions. But, keep in mind that Storm Arwen caused massive damage to UK forests, and it's well worth checking the Forestry England pages for updates and ongoing clearance work: Harwood Forest.
Simonside
South of Rothbury, the Simonside Hills rise to around 440m, defined by rocky sandstone crags and escarpments. A popular spot for rock climbers, it's also a site of special scientific interest, and the summit affords spectacular panoramic views across Coquetdale and the Cheviots.
"Once upon a time did not the caverns and recesses amid the rocky heights of Simonside nightly witness the unearthly revels of a tribe of ugly elves and dwarfs..."
In folklore the place is home to the Simonside Brownmen, a race of dwarf-like creatures with a reputation for luring lonely travellers into bogs and over cliff edges. They are easily recognised by their moleskin trousers, lambskin coats, and moss hats decorated with a feather. Luckily I was not led astray today! Just keep reminding yourself that you're probably safe during the hours of daylight!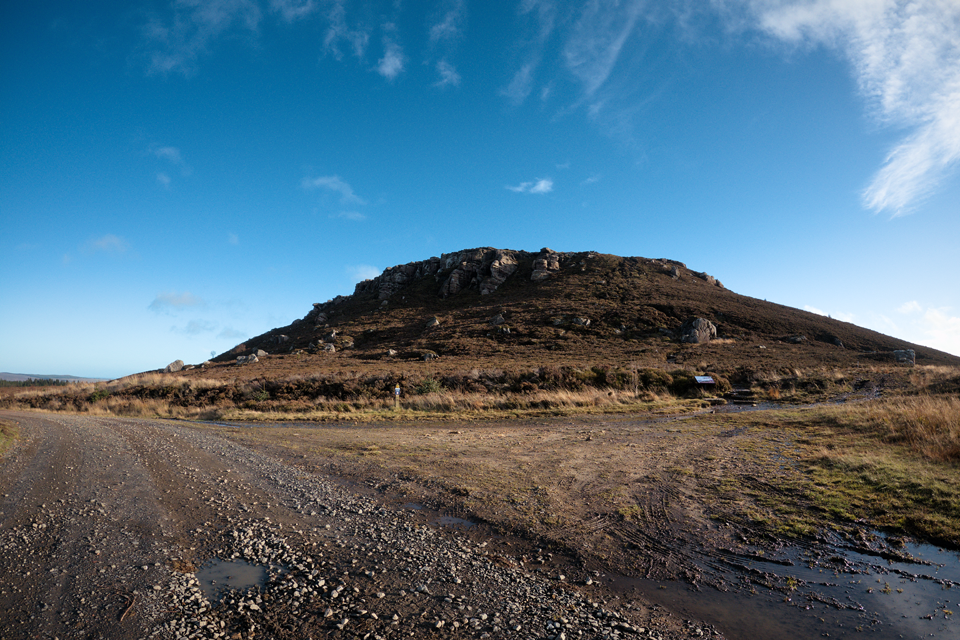 GoPro still of the gravel track leading around the south-western flanks of Simonside.
There is no access to the Simonside summit by bike or horse. All public access was technically forbidden until the 2000 Countryside And Rights Of Way Act, and now it's open-access land. There are good trails and signage, highlighting interesting plants and animals that you might be able to see.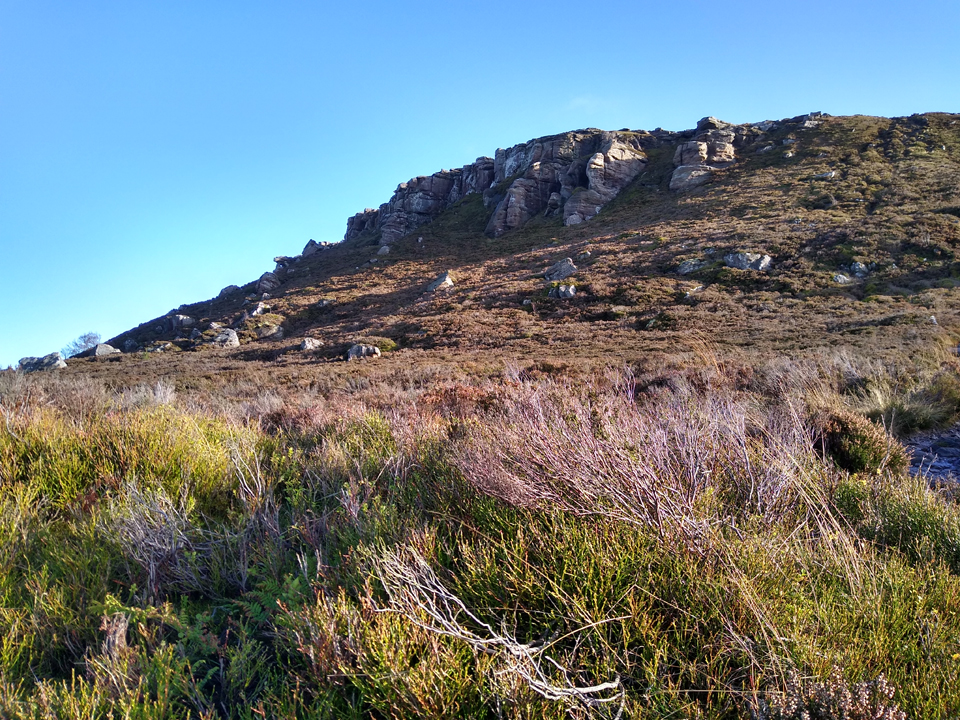 The summit of Simonside, 430m.
There is a viewpoint near the track, with benches. This marked the end of my route today. To continue from here would be some fun and gravelly downhill towards Rothbury.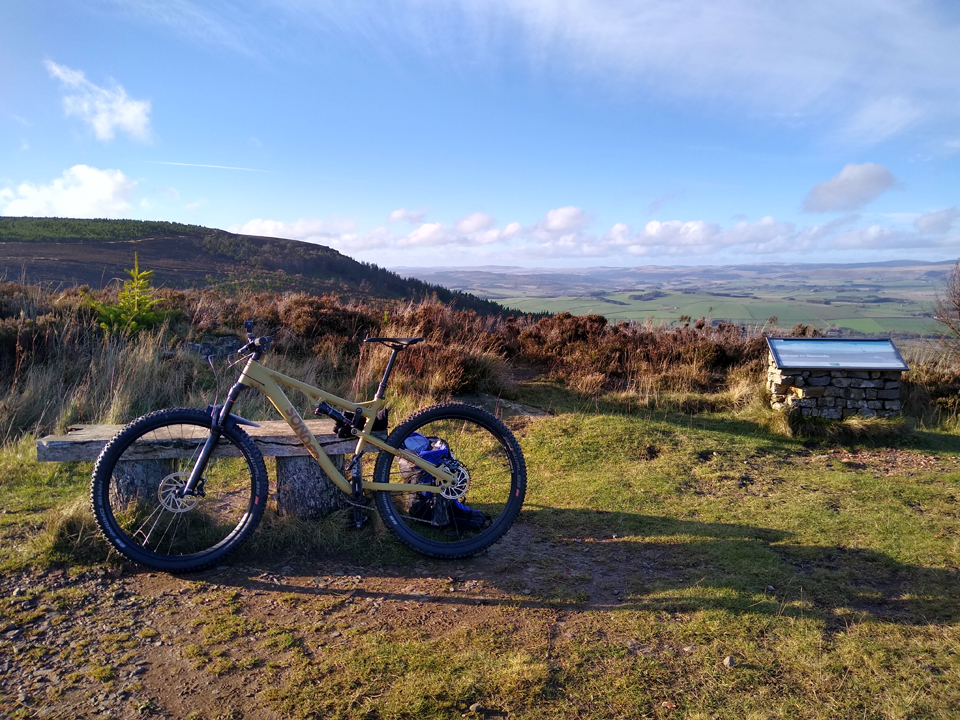 My Sonder Cortex, un-taxed by today's terrain.
There are excellent views across towards the Cheviots, and you may be treated to the sound of heavy artillery fire from the Otterburn ranges. There's more scenery signage, and benches. An ideal spot for some picnic refreshments before the homeward journey.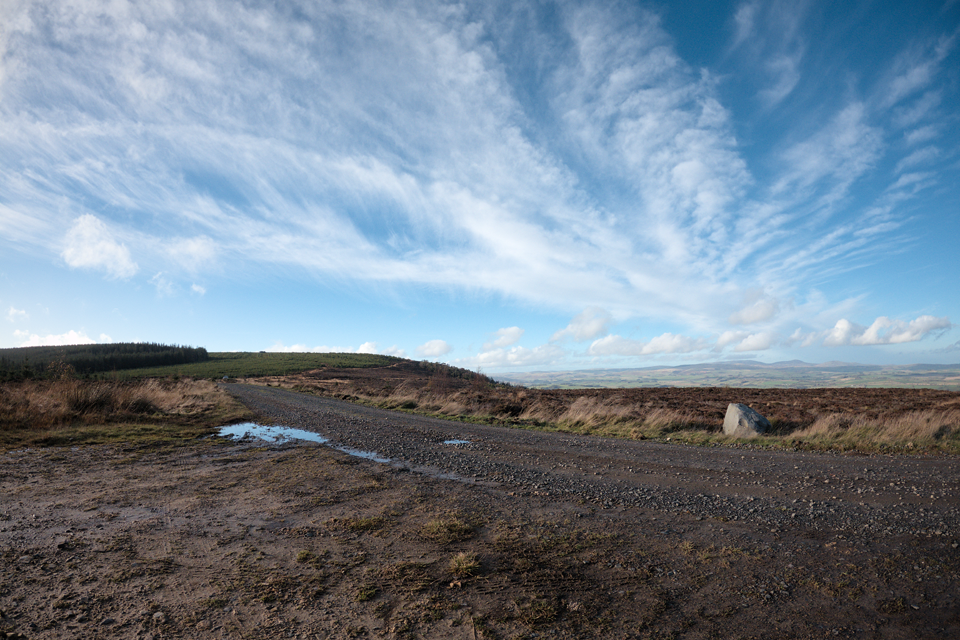 Heading southwards, away from Simonside.
From here, the route is mostly downhill back to Winter's Gibbet, with some fun, fast descents towards the hostel at Chartners.
Forest Roads and Tracks (Video Stills)
To create a flavour of the terrain and tracks, I've copied some GoPro video stills below.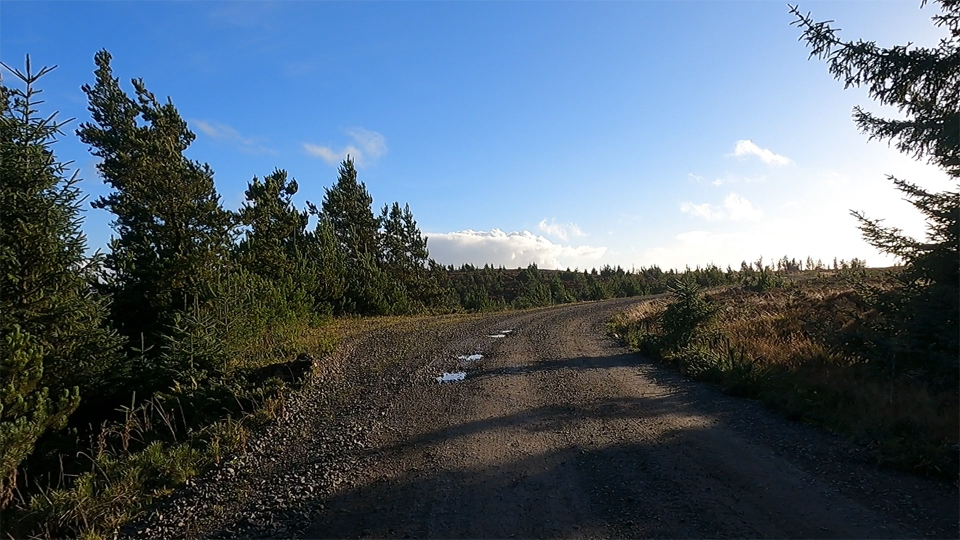 Short and gentle climb north from Simonside.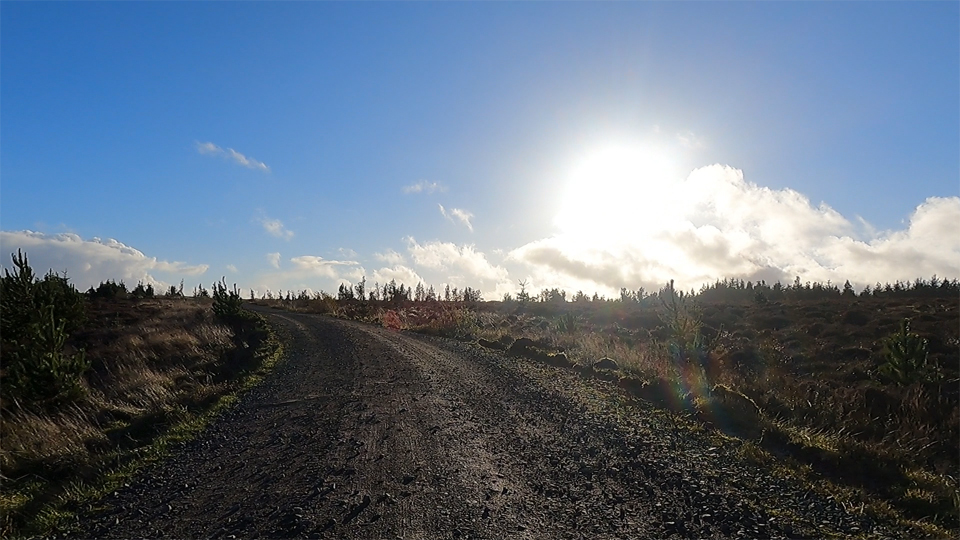 Climb starts to level out amongst felled trees at Weather Head.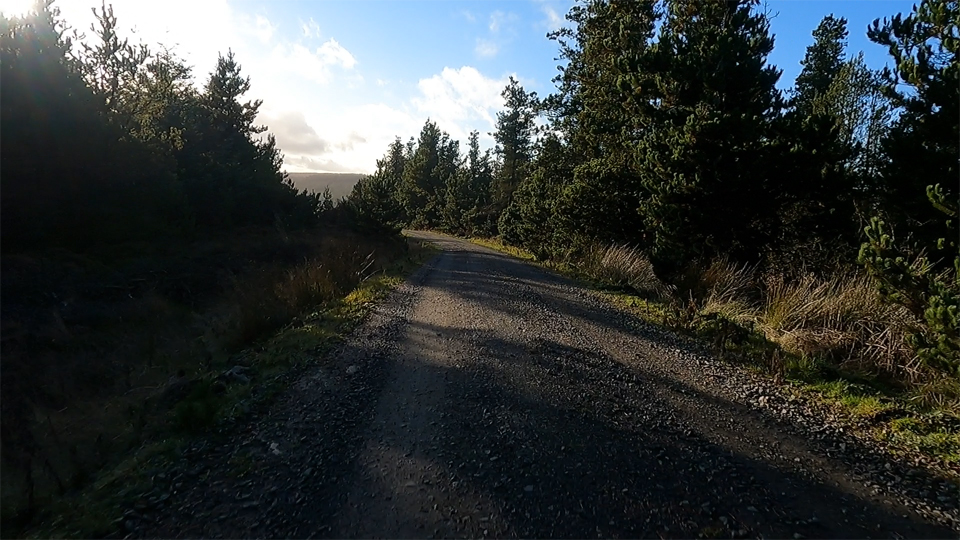 Long and rapid descent towards Chartners.
Picturesque trails after Chartners, moving deeper into Harwood Forest.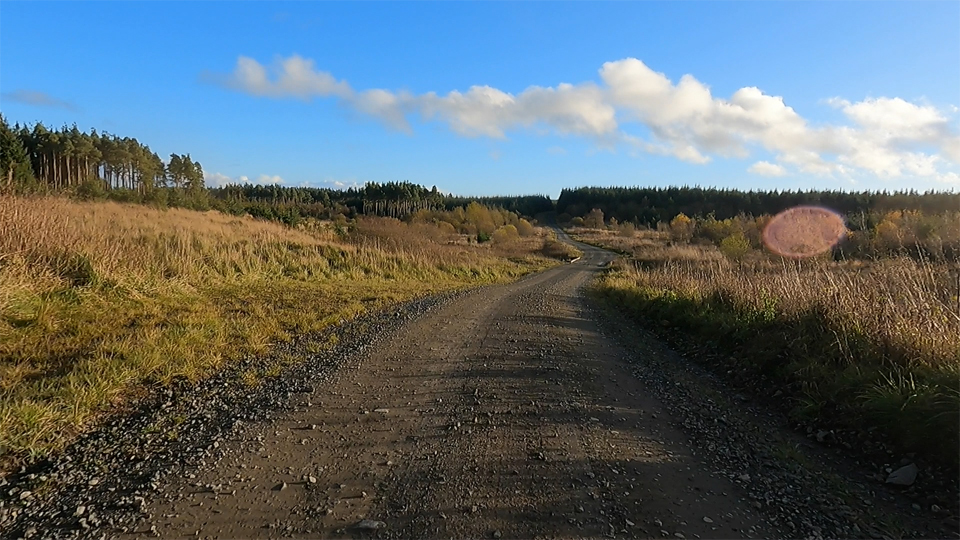 Easy going south of Hemmel Hill.
Summary
I normally prefer to ride circular routes - aesthetically it feels more pleasing to complete a circuit. But, for a one-way route, this made for a fun ride. Once the Storm Arwen damage is dealt with, there are some alternate bridleways to the east. For example, heading south-east from Chartners to Fallowlees. It's worth noting that the path from Coquet Cairn to Simonside, whilst marked as a bridleway, no longer actually exists on the ground. It's a pity, because that would be an excellent return route.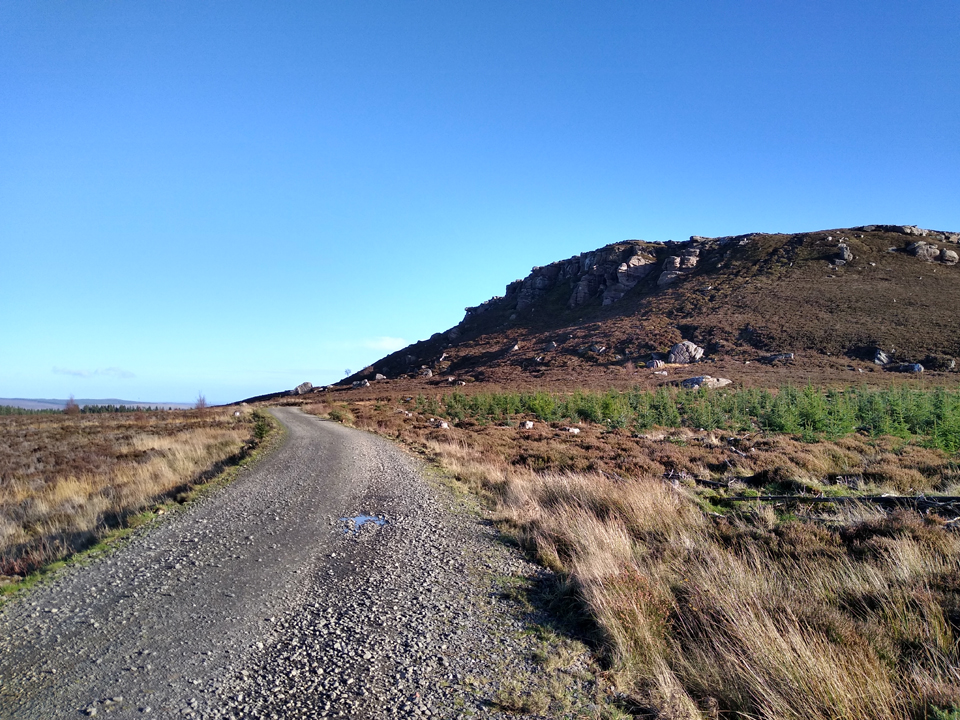 Track to Simonside.
All in all, a great route. It took me a fairly leisurely 3 hours, and I'd suggest that's a reasonable estimate if you're wanting to stop for snacks and photographs.
References
Additional information: