Welcome to mootParadox
Info
mootParadox is my personal website, updated on rare occasions when the muse takes me! It's a miscellany of outdoors and techie ramblings.
The site is built with Grav, an open source flat-file CMS. I liked its modularity, only install what you need, and the templates use Twig. If you want to find out more, take a look at Learn Grav.
What's on the site?
You'll find some hiking blog posts from my old site, with improved maps and better versions of the photographs. Follow these links to blog posts related to Outdoors, and some additional planned Wainwright-bagging routes. If you have an interest in UK trad climbing, I've started to update My Logbook on UK Climbing.
I avoid surveillance-powered social media platforms, but you can find me as @mootParadox@fosstodon on Mastodon.
There are also some Projects, most have a techie angle. And the Writing section is a repository of everything else.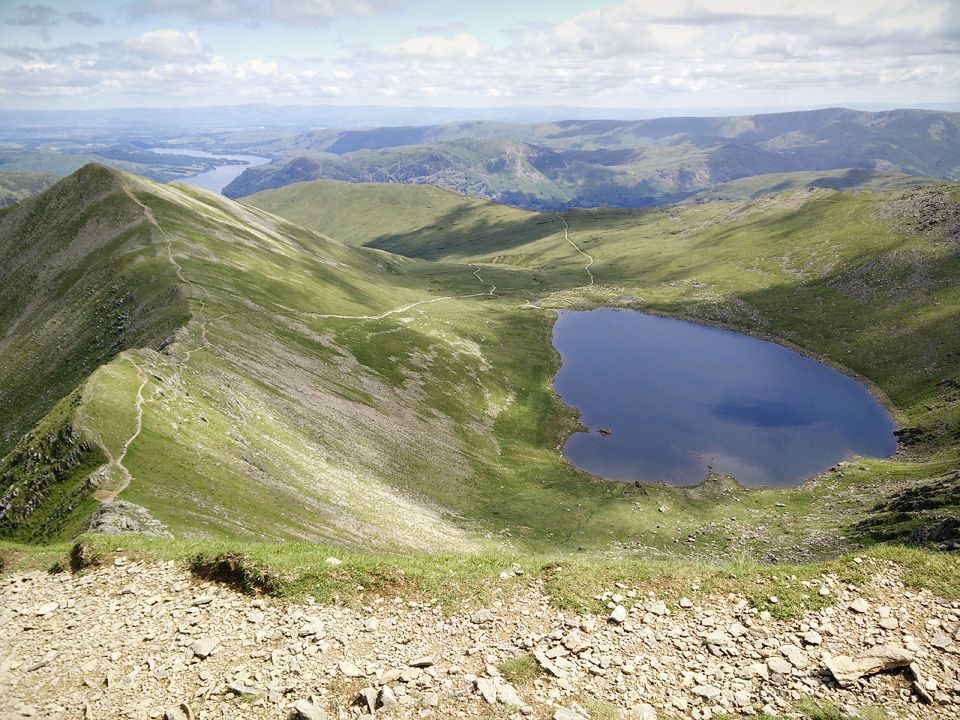 Red Tarn with Swirral Edge to the left.
The previous versions of these hiking trip-reports featured low-quality JPG maps (or none at all) and the photographs were scaled down to 400px wide. The example above comes from Catstycam to Sheffield Pike.
Walking the Wainwrights
This has been a long-running project, and by long-running I'm talking 10+ years! The tables below list his seven classic volumes and the routes I've walked so far. These have been some great days out, and the Wainwright Bagging count stands at: 104 / 214.
The Wikipedia article List of Wainwrights is a useful resource.
| Book 1.) The Eastern Fells | 23 / 35 |
| --- | --- |
| Catstycam to Sheffield Pike | catstycam, helvellyn, lower man, whiteside, raise, stybarrow dodd, hartside, sheffield pike, glenridding dodd |
| Gowbarrow from Brunt Crag | gowbarrow fell |
| Dovedale Round | hartsop above how, hart crag, dove crag, little hart crag, high hartsop dodd |
| Grisedale Horseshoe Redux | birkhouse moor, helvellyn, nethermost pike, dollywaggon pike, seat sandal, fairfield, st sunday crag, birks, arniston crag |
| Book 2.) The Far Eastern Fells | 24 / 36 |
| --- | --- |
| Angletarn Pikes via Place Fell | place fell, beda fell, angletarn pikes, brock crags, rest dodd, the nab |
| Extended Mardale Horseshoe | high street, mardale ill bell, harter fell, branstree, selside pike |
| High Raise from Martindale | bonscale pike, arthur's pike, loadpot hill, wether hill, high raise, rampsgill head, kidsty pike, the knott, steel knotts, hallin fell |
| High Street via Stony Cove Pike | high street, mardale ill bell, hartsopp dodd, caudale moor, thornthwaite crag |
| Book 3.) The Central Fells | 1 / 27 |
| --- | --- |
| Pavey Ark via Jack's Rake | pavey ark |
| Book 5.) The Northern Fells | 24 / 24 |
| --- | --- |
| Blencathra via Scales Fell | souther fell, blencathra, bannerdale crags, bowscale fell |
| Carrock Fell to Knott | carrock fell, high pike, great sca, fell knott |
| Dodd to Latrigg Loop | dodd, carl side, skiddaw, lonscale fell, latrigg |
| Great Cockup to Binsey | longlands fell brae fell meal fell great cockup binsey |
| Northern Fells Wildcamp | blencathra, bowscale fell, carrock fell, knott, mungrisdale common, great calva, little calva |
| Skiddaw Via Longside Edge | ullock pike, long side, carl side, skiddaw, bakestall |
| Book 6.) The North Western Fells | 17 / 29 |
| --- | --- |
| Catbells and the Newlands Horseshoe | robinson, catbells, hindscarth, dale head, high spy, maiden moor |
| Causey Pike via Knott Rigg | causey pike, knott rigg, ard crags, scar crags |
| The Coledale Round | barrow, outerside, sail, crag hill, wandope, hopegill head, grisedale pike |