The first route I attempted from Cycle Rides in Northumberland and Beyond was a bit of a cheat. It's a shorter variant of the Northawall route, beginning in Stonehaugh. I don't hesitate to recommend buying the guide if you haven't already. I carry it with me, and recommended it to two people along this route alone!
A 26km (almost) traffic-free MTB route from Stonehaugh, returning along NCN route 68. (321m of ascent.)
Parking in Stonehaugh gave me a slightly shorter drive, free parking, and a shorter, easier ride. But, do check the guide book. For the full experience you should begin at The Sill, even though their parking is extortionate. This shorter alternative misses several points of interest, from the views of Peel Crags and Crag Lough, to the historic Burn Divot.
Also note that the route shown below is taken directly from my actual GPX track, which includes various Storm Arwen diversions. It's not quite what's shown in the book. There's some overlap with the Pennine Way diversions, and updates are available from this Forestry England page.
Update: I've now ridden a couple more variations on this route, in the spring of 2023, and several of the forest roads are now reopened.
Route
Stonehaugh
Stonehaugh is a very small village, originally built for the families of forestry workers during the 1950s. There's a campsite and a village hall, but no pubs or cafes. It's an interesting location though, with its Stargazing Pavilion, picnic area, adventure playground, and three totem poles. The free car park has an environmentally friendly composting toilet; a welcome sight if you've had a long drive!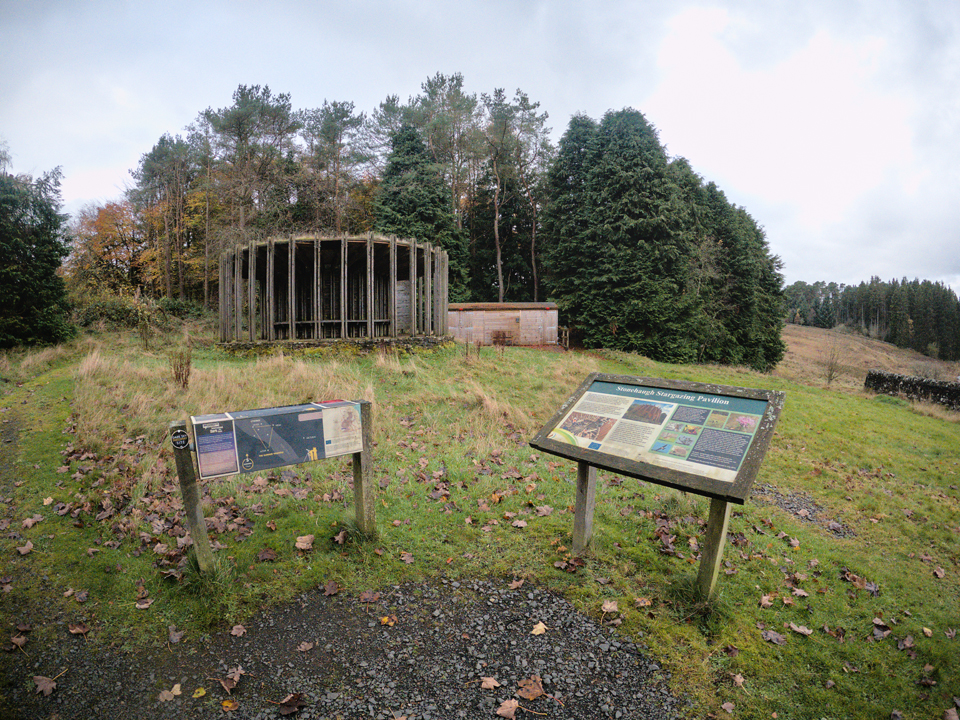 Stonehaugh Stargazing Pavilion.
I arrived on a bright Sunday afternoon, November 6th. Be aware, this locale (and the wider Kielder area in general) has a reputation for being a midge-nightmare in the summer months.
The route begins on tarmac for around 2.5km, but rest assured this is going to be followed by 23.5km of forest gravel road. I'm not a fan of road cycling, but these are very quiet, single-track lanes and I didn't see any traffic. During the day, I met a couple of people walking their dogs, and chatted to a couple more people back at the car park. It's not exactly a busy place!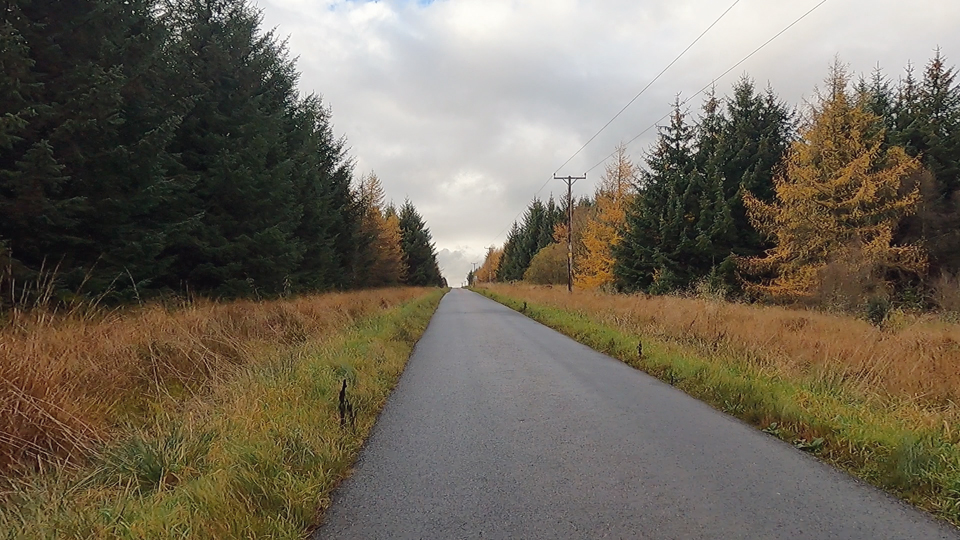 Leaving Stonehaugh, heading for Pennine Way / Bridleway.
Just before leaving the tarmac, you'll probably notice the signage for Falconry Days at Lady Hill Farm. It's a popular attraction, with over 70 birds of prey. Operating times are April-October.
Look out for the junction signed FRP-12, as this is where you'll enter the forest.
Bellcrag Flow
The first leg of the route takes you from the road to an open area, shown on the OS map as Bellcrag Flow. Bell Crag itself is the highest point in this section of the forest and, at 332m, it's easily spotted with its fire tower.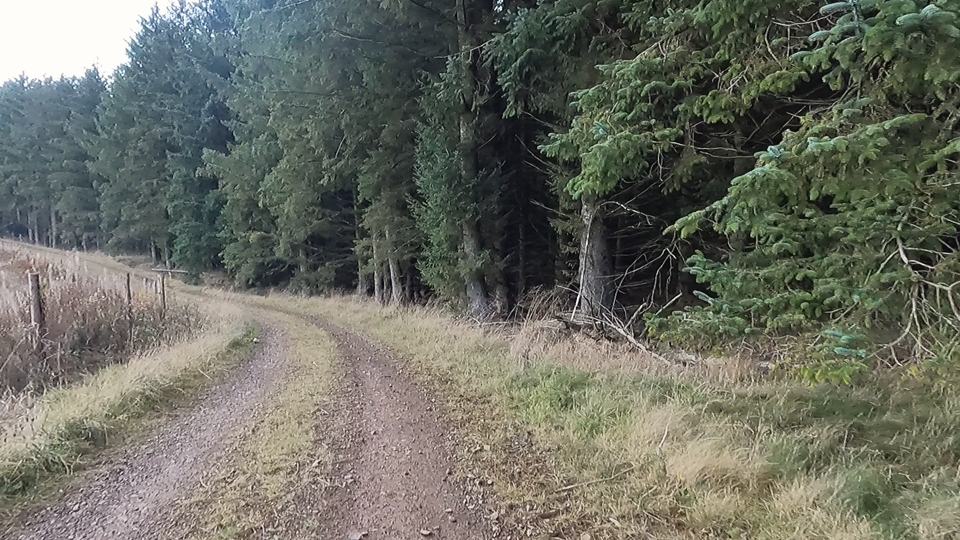 Climbing around the east of the forest.
It's a long and gradual climb, nothing too tiring, and it soon levels out as you move deeper into the forest.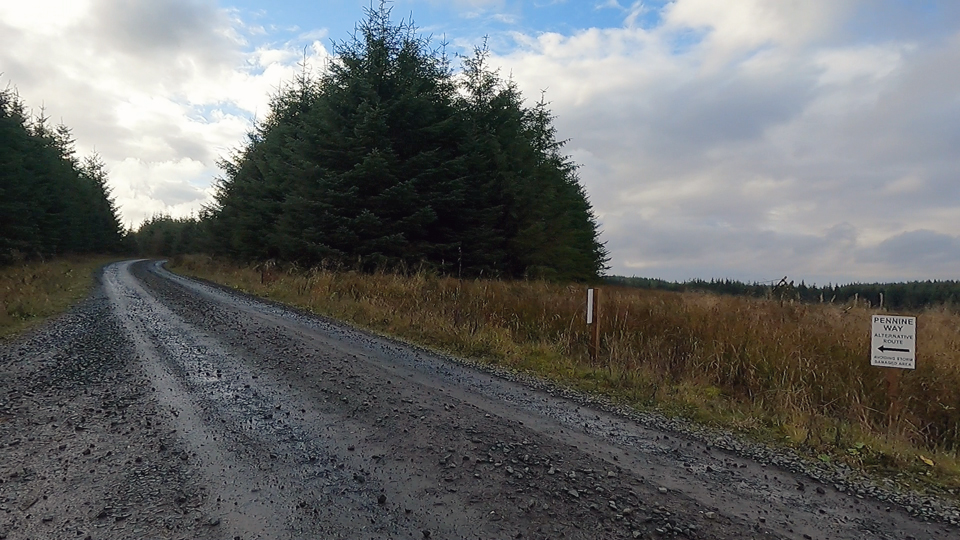 Following Pennine Way diversion signs near Coal Cleugh.
Years on, you still feel the effects of Storm Arwen. At the time of writing (months after the actual ride!) some but not all, of these diversions have opened up again. But, seeing roads lined with huge, uprooted trees is a constant reminder of what was an extraordinary event.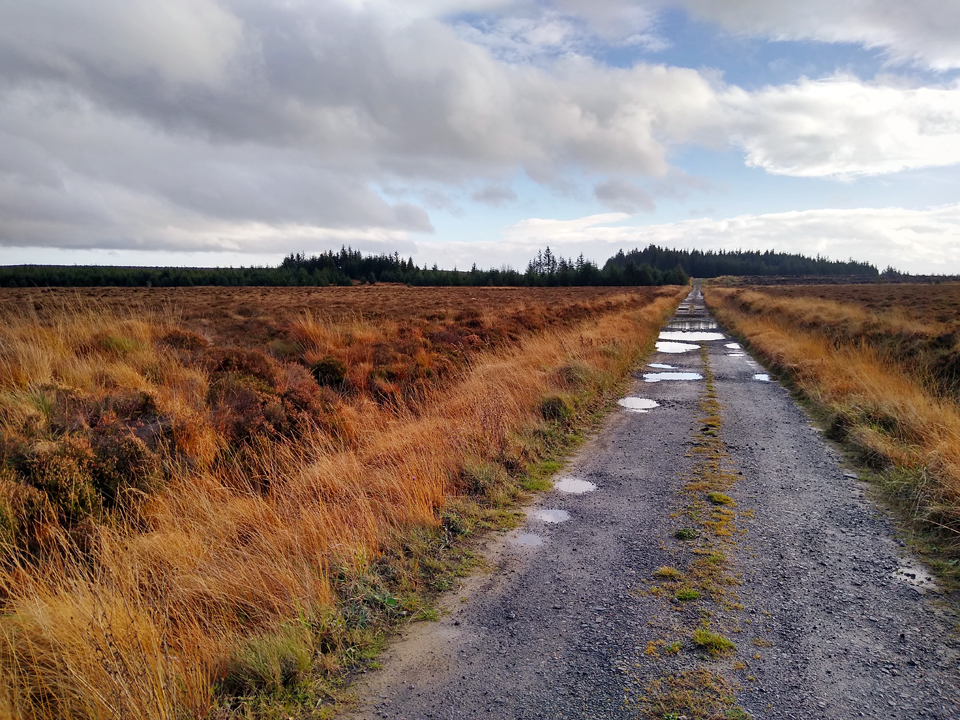 About to get some wet feet across Bellcrag Flow.
Watch out for the puddles - the depth is deceptive! I've followed this section of the route a couple of times and it seems prone to this type of flooding! I tried riding through the first puddle and my feet were submerged on every downward pedal stroke. I walked around the next ones!
Hopealone Radio Tower
There is a history of Hopealone, and the purpose of its links between 1959 and 2012, at BT Microwave Sites.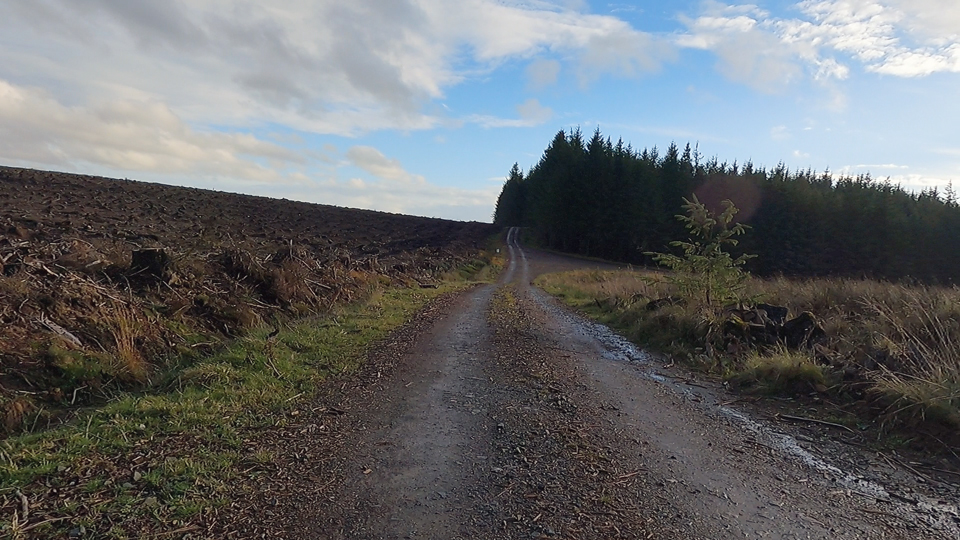 Pennine Way straight ahead, but bear right towards Hopealone.
Whilst the Pennine Way heads straight on towards Hadrian's Wall west of Housesteads, follow the forestry road that branches down to the right. The route is pretty gentle, but there is some nice downhill through avenues of trees.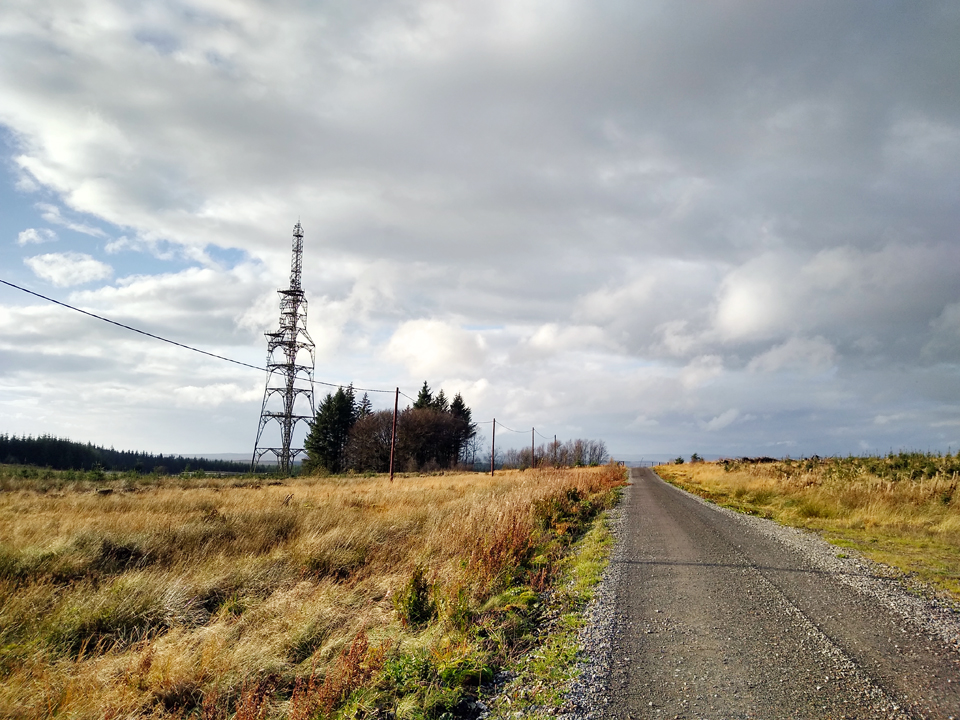 Approaching the Hopealone mast.
Emerging from tree-lined gravel road, the vista really opens up with excellent views down towards Hopealone. The highest point in the route is behind you and the route is trending downhill from here. (Although there are one a two small climbs back along Route-68 into Stonehaugh.)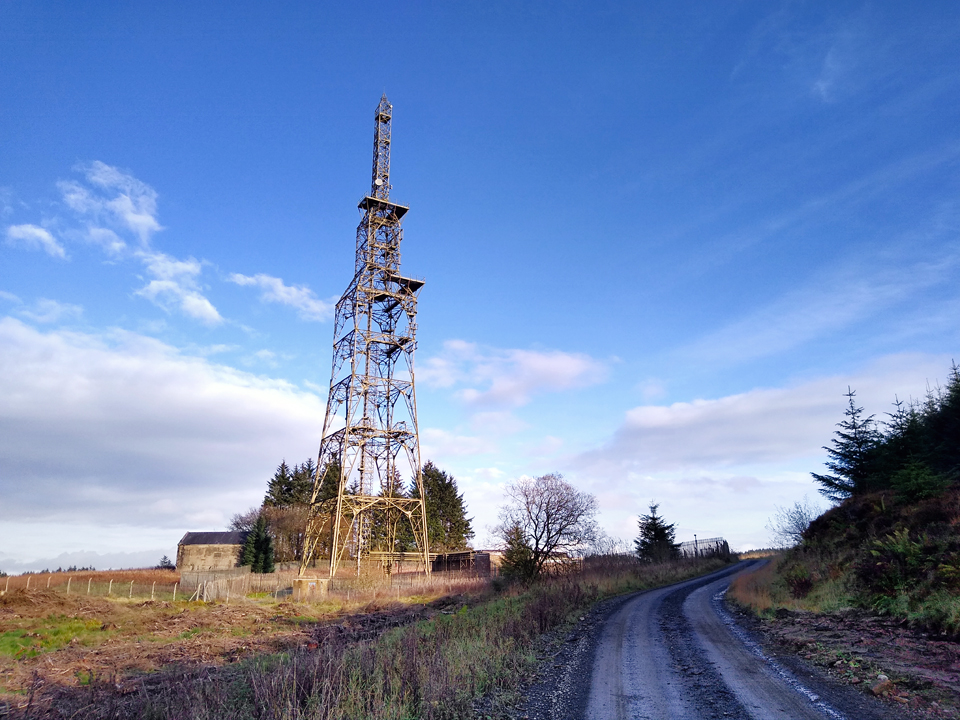 Hopealone mast, perhaps mostly retired these days?
Older photos show this mast loaded with horns and antennae. Back in the mid to latter 1900s it provided important radio and television links between the North and Cumbria. Now it appears to be rather sparsely populated, but it's an interesting structure and the surrounding buildings are intact.
NCN Route-68
After a brief departure from the forest, there's a distinctive gate/stile where the tarmac road turns to gravel. There are usually a couple of parked cars here, and on every visit so far I've met a couple of dog walkers. It's a great spot to rest for a quick snack before some steep and gravely downhill.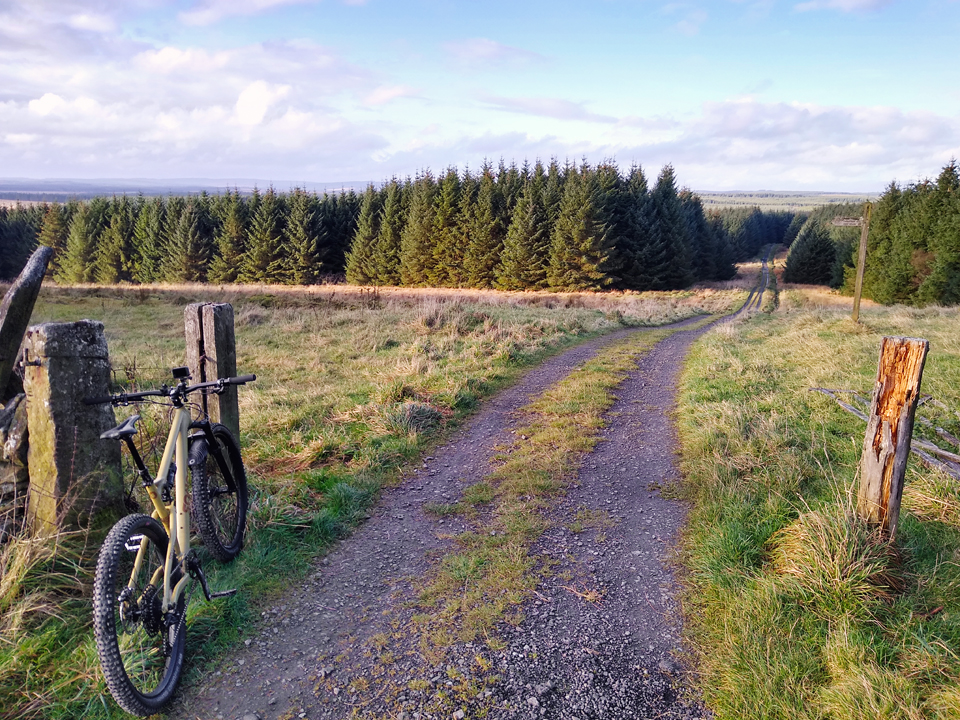 The gate/stile where NCN-68 turns from tarmac to gravel.
Route-68 leads all the way back to Stonehaugh. Open, undulating, mostly heading downhill but with a few short climbs. Forests are working environments and the character changes over time, but at the time of writing the countryside feels far more open here, like you're skirting the edges of the forest. Kielder Forest is away to your left, Wark Forest to the right.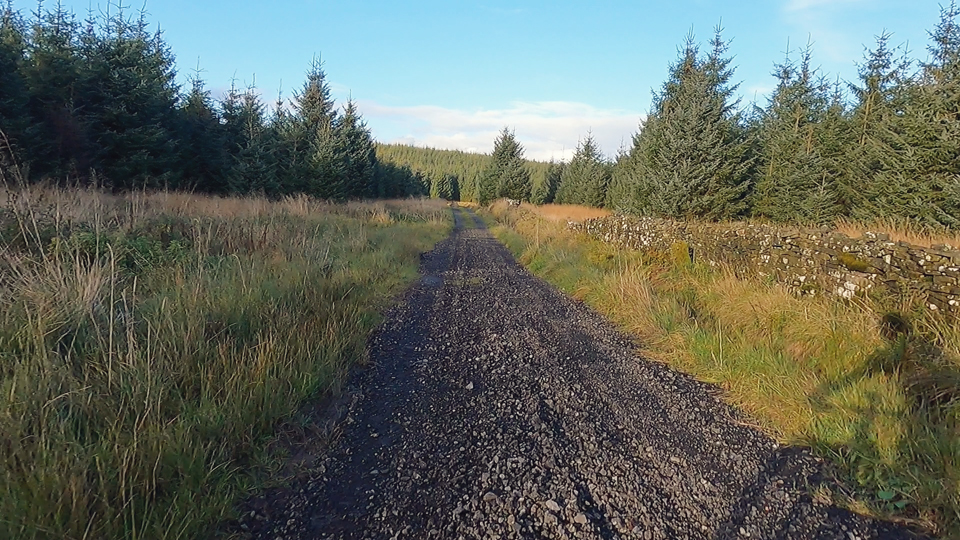 Gravelly descent around Grindon Green.
If you're attempting the full circuit from Cycle Rides in Northumberland and Beyond Grindon Green is where you would rejoin Route-68. It looks great, and I'll go back to it once I have more time... and am a little bit fitter!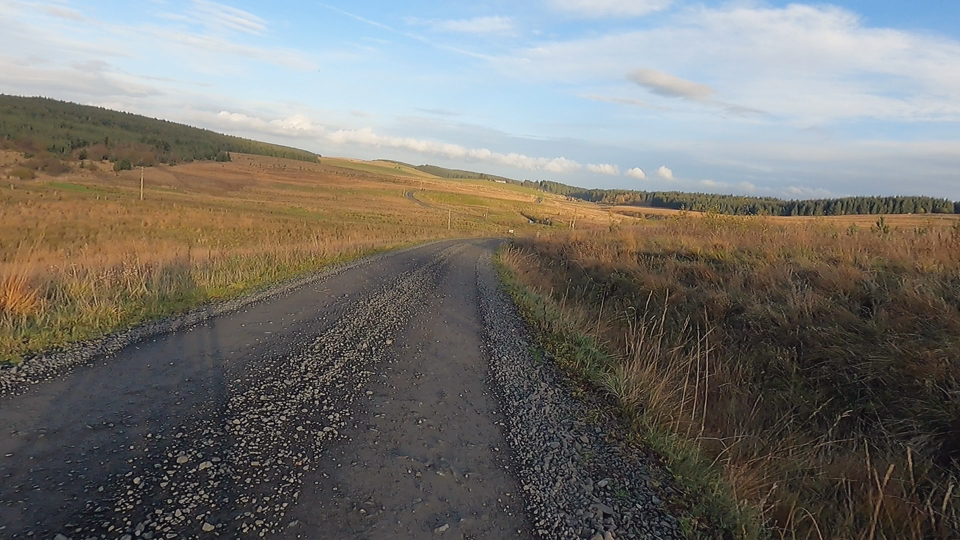 Long and steady descent into Stonehaugh.
Closer to Stonehaugh, you begin to pass more buildings and the road eventually turns back to tarmac. At times there may be traffic, although I didn't see any. There is an alternative bridleway/track route back to the car park, but it was overgrown, possibly a hangover from Storm Arwen, and I ended up simply following the road. It's very quiet.
Summary
I find Wark Forest a fabulous spot. It's remote and quiet, criss-crossed with tracks and fire roads. This is just one of several variations on this type of route, all beginning at the free Stonehaugh car park. Time it right, stay late, and you might be able to enjoy a picnic and some star-gazing!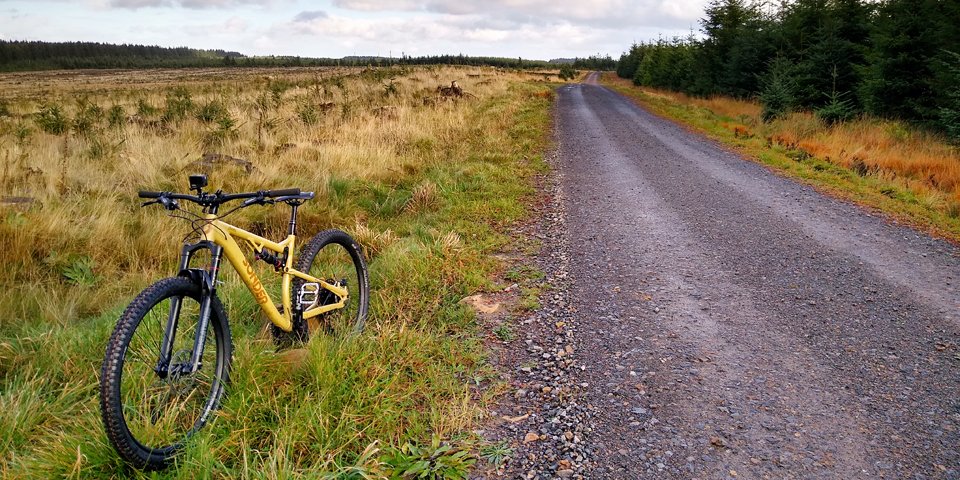 Obligatory bike 'selfie'.
References